Hello raiser fans! Today, 3 August 2017, Raiser Online are released new expansion! HAWK BRINGER INSTITUTE. Em..emm i think i gonna explain in short because there i think no one will read the forum if im writing a long text hahah. so, here we going!  

HAWK BRINGER INSTITUTE
Be member of Hawks can upgrading your character many ability and unlock specific secret. What is that? Your going to see all the advantages!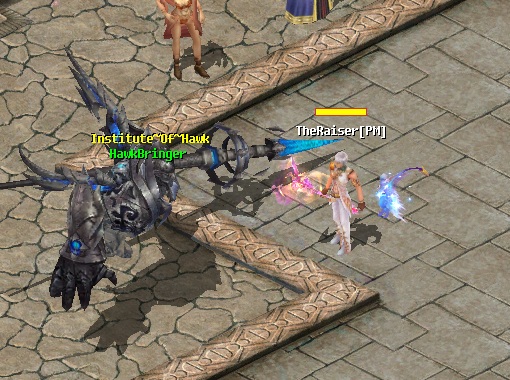 * Find the Hawk Bringer NPC in market place (305,556).
* You can read all the informations there and you can be the HAWKS!
* Hawks devided 2 types: Hawk Fernis (Blue Blood) and Hawk Corrus (Red Blood).
* When you already be a HAWKS, what distinguishes between fernis and corrus is ..
* Hawk Fernis - your character will given superpet Blue type for FERNIS
* Hawk Corrus - your character will given superpet Red type for CORRUS.
* Did you can change your hawk type after already be hawk? - No, you cant.
* So, think the best choice to be..!!  

# How to be the hawk and what is the requirement?
* Go to mine and dig 5x SilverOrerate10 and click the Bringer to evolve your character!

* After you make it, you will receive 1 item in your inventory like machine with effects (HawkBringer)
* BEWARE!! MAKE SURE YOURE NOT GOING TO DROP IT OR YOUR CHARACTER WILL NOT GET IT BACK  

* Right click and you can see all the function below.
* You can see 1st Quest, 2nd Quest and 3rd Quest.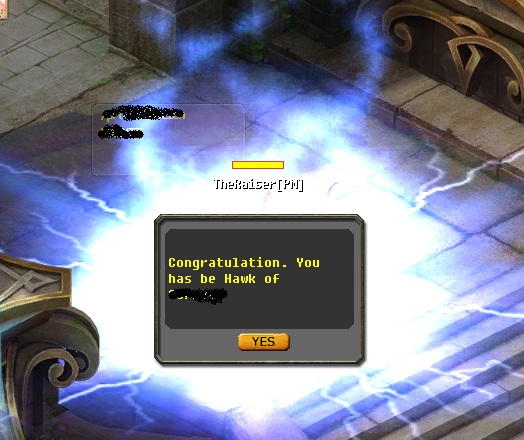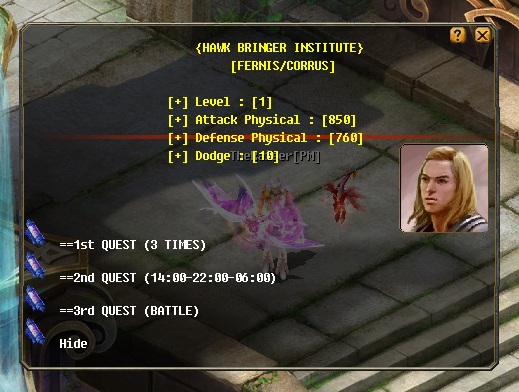 * 1st Quest:
- You can enter in the HawkWorld 3 times every day and killed the beast (CefiroHawk) there to receive HawkPoint.
- Walk in the map, kill the beast and bring the point back
- HawkPoint rates drop (1-5)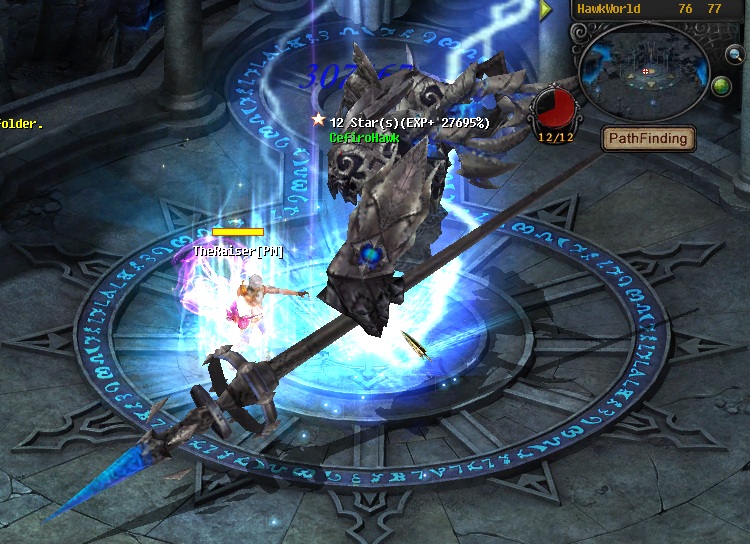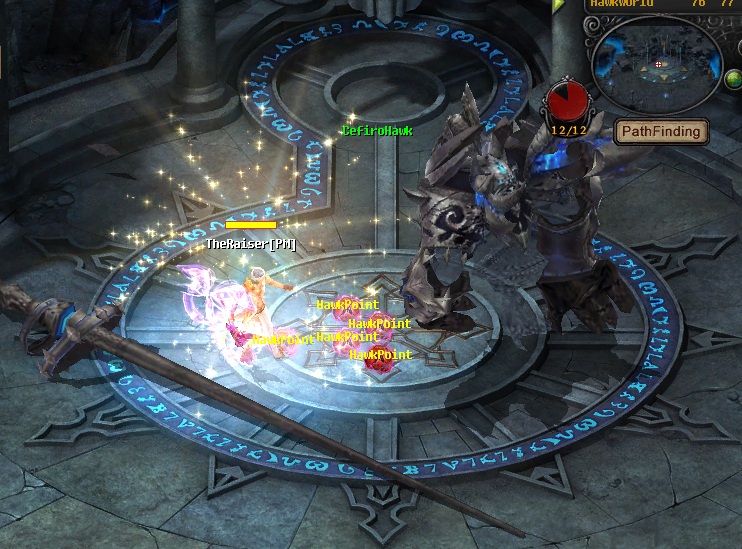 * 2nd Quest:
- You can enter in the HawkEmeraldblast on specific time everyday!
- (14:00,22:00,06:00) GMT+8
- On the right time open, there are only 20 Rockemerald monsters. Drop rate per monster (1-5)
- Walk as fast you can before another players get it.
- *****BONUS!!***  There are 2 smaller beast in the HawkEmeraldblast (DwarfMoose), KILL THE BEAST TO GET JACKPOT POINTS!  

(5,100,1000) BUT! You need to kill around 5 minutes once you enter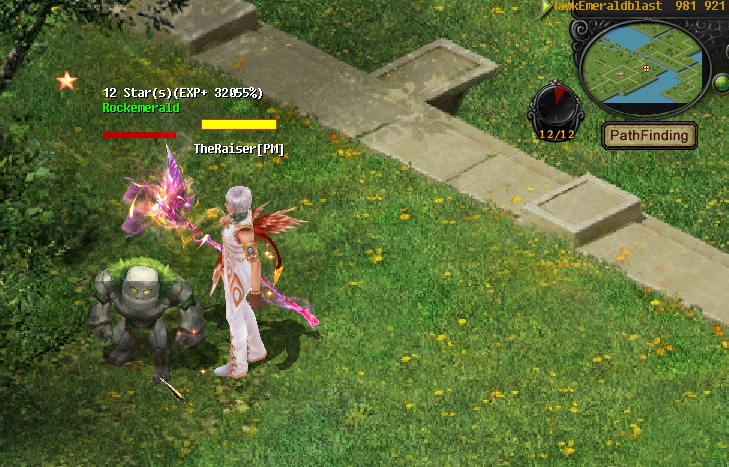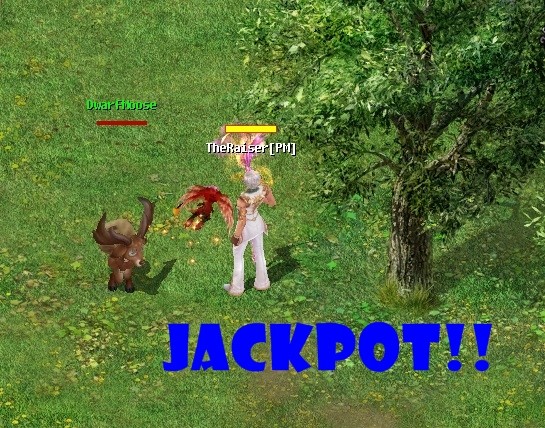 * 3rd Quest:
- BATTLE FERNIS AND CORRUS (TOUCHDOWN GAME).
- On 22:00 every (Wednesday,Saturday and Monday).
- How to play?..
= When the game start, FERNIS  and CORRUS will be fight to won the battle.
= The game have 3 poles, FERNIS or CORRUS members need to get all the poles to touchdown the game!
= Once entering the game, FERNIS members will spawn on down pole and CORRUS at the up pole.
= On the center of the map, located CenterPole.
= Get the poles DOWN and UP then you should A.S.AP touchdown the game at the CenterPole  

= Time given 22:00 - 23:59 (2 hours) but every battle only limit for 5 rounds.
= Once the first battle finished after either one members touchdown the game, all players there will be kickout from the map
= All winner of the members team will automatic get HAWKBOX in inventory - please make sure your inventory have some spaces!! No refund!
= You can summoning CefiroHawk and kill him but only in the HawkWorld can open it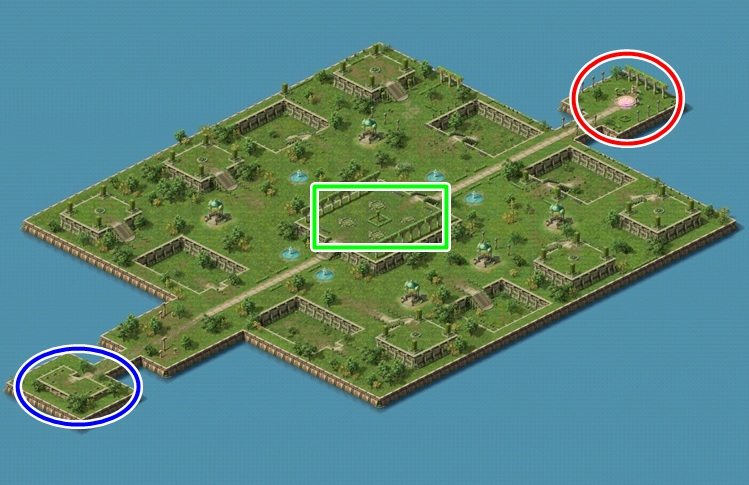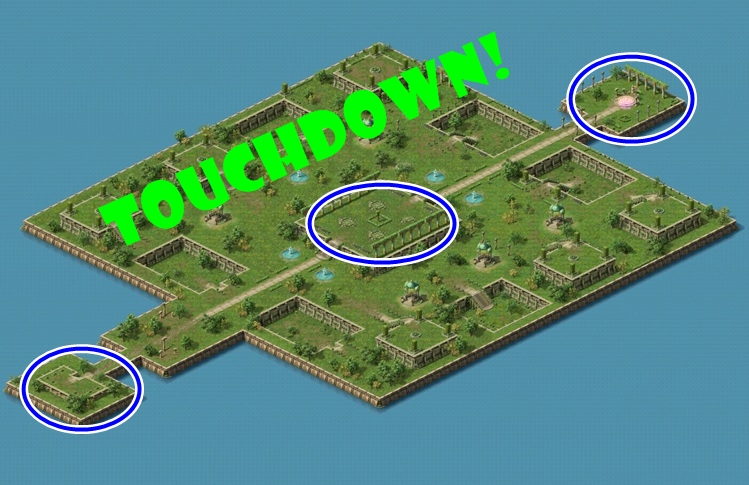 # HawkPoint? - CANNOT TRADE/DROP IT. Collect as much as it can, because it has many benefits. Like examples below:
HawkMounts
HawkWeapons
HawkCasuals
HawkLevelUP
HawkItem:
(UnlimitedMana,NewHair,SpecialPetConvert)
However, the hawkpoint is still in the process of being used for many future uses!
Will be update soon the HawkPoint with the benefits  

Thats all about hawk expansion, i am sorry for my bad english.. and enjoy!

 - TheRaiser[PM]
Admin




Posts

: 88


Join date

: 2015-12-31





Similar topics
---
Permissions in this forum:
You
cannot
reply to topics in this forum