TREASURE CHEST
Where?
Currently on 10 maps: GobiDesert, MistyMarsh, DarkMarsh, Island, IcyLand, Volcano, LostLand and FrozenHell.  

Details:
Game will automatically from time to time spawn treasure Chest on random location at randomly chosen map (from chosen list currently). When this happen system will announce information about this under Left Bottom Chat (colored visible information) stating on what map treasure chest appeared.
There can be only 9 Treasure Chest Max at one time. When 1 chest will be found by player - this will be announced to everyone as well under left bottom chat system with information at what map chest was found. Chest will be appeared on minutes (11 and 41) every monday - thursday. In 24 hours, chest have limited appeared for 400 chest only.

Rewards:
There are loads of possible rewards - mostly are Rare items ... in small or big amounts  
On list can be:  

100.000 EP
500.000 EP
MoneyPoint
DivineExperience
DragonHead
XPBooster
CastleStone
UniversalXO25*
HolyStone
etc...
Every TreasureChest that will be found by player will give +1 ChestPoint used for Legion Statue (War Of Titan)  

Release the ChestPoint on the Legion Statue to redeem specific legion prizes!
Treasure Chest are attached additonal way to spot places where chests can be hiding. All maps where treasure chests can appear are marked on Map and Minimap by Yellow Spots...
here is the example what to look for: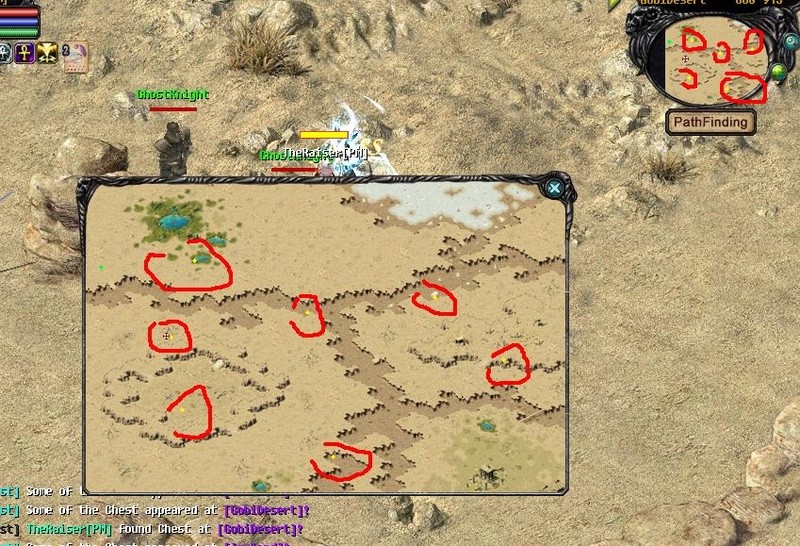 Best Regards,
Raiser Online Staff

Admin




Posts

: 88


Join date

: 2015-12-31





Similar topics
---
Permissions in this forum:
You
cannot
reply to topics in this forum