Greetings!
As your contribution by increasing traffic to our server Raiser-Online, donating and voting for us. Here, we will show our gratitution by giving tips about PET ADVANCEMENT.
WHAT IS PET ADVANCEMENT.
Pet advancement (in-game we called it AdvPet) are:
- another form of choosen pet.
- evolution of pet into different kind of pet that are much more powerful.
- strongest pet in server.
- better stat and attribute than normal and rare(donation) pet.
HOW DOES ADVPET MUCH MORE BETTER THAN THE OTHERS.
In one word. ITS PERFECT!

In eudemon world, there are two type of  attribute. Initial(ini-stats) and Minor(gear stat/Gr). When you are normal compose, so does gr value will increase. But not ini-stats. Thare are only ONE WAY to increase ini-stats which is "ini-compose" that requires you to get the same race pet with higher ini-stats to compose.

MINOR /GR

Gr stat is fix stat where each eudemon require after hatching. Eud will depend on those Gr stat to maximise value u can achive while normal compose. The higher your pet GR stat, the higher compose gr value you can get.
Despite Gr stat is fix, you can still tweakling with it by "minor compose" it. You need to hatch same race eudemon and find minor state which higher than  your eudemon.

Initial stat/ini

Ini stat is fix, same with Gr its require after hatching an egg. Eud will depend on in to get initial value of your attribute. The higher your ini stat, the higher you eudemon initial attribute value.
*You can see the different when your pet is level 1.


I WLL POST ON HOW TO INCREASE MINOR STAT, INITIAL STATE AND LUCK  IN DIFFERENT GUIDE.


INI-STATS FOR ALL ADV PET ARE THE HIGHEST IN THE SERVER.

CHECK the ini-stats and its coresponding value.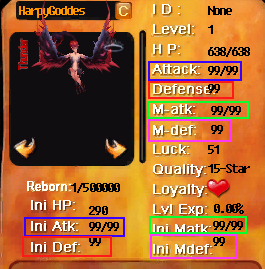 As you can see, its ini-stat effect pet initial attribute value. That will be the jump-start for you to maximise your pet attribute.



Since your pet already have max initial, what left is its minor stat. Well, its depend on your luck through normal compose since all ASTRAL, ELEMENTAL, RARE, DONATION PET, AdvPet are singular race (Does not sharing race with other normal pet /*check on my next guide, you will know why it is important to have race sharing in those expensive pet)






IMPORTANT NOTE!



*Be noted that despite all ini-stat are max, doesnt mean that all pets going to use all attribute at once while compose.

*elemental pet is the only pet which will increase all attribute at once when compose(meaning it will increase hp, atk, def, matk, mdef)

*some adv pet only increase its mainn gear only such as hp, patk,pdef,mdef only (warrior pet) or hp, matk,pdef,mdef(mage pet)

*advPet advantage is ini-stat only. You will need to wait for race sharing system to maximise your Gr stat[size=18].

[/size]
**race sharing system- its not a system. Much more like sharing totem where as in eudemon race ranking you will see 2 race share same ranking

Later, I will show you which AdvPet increase which attribute when composing. And also which elemental AdvPet has higher Matk or Patk attribute


===============================

Main forum link: http://goo.gl/XkQPqR
Full Quest list : http://goo.gl/XzCrKh
Vote System Guide&Reward : http://goo.gl/A84Pzk
Horn Feature HornBox : http://goo.gl/mMqBpO
Horn Feature WarGate: http://goo.gl/2j62Kz
Vote here : http://goo.gl/aNHCQm
===============================



Posts

: 45


Join date

: 2016-01-02


Age

: 24


Location

: rawang




---
Permissions in this forum:
You
cannot
reply to topics in this forum